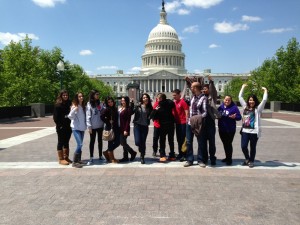 At Arshag Dickranian School, we recognize the importance of involving students in activities outside of their regular curriculum. The purpose of this is to enrich their learning experience and develop and improve skills they may possess that cannot be addressed in a typical school curriculum. Students can become either a member of a student club or get involved in an internship.
Currently, the school is offering the students the chance to get involved in Student Clubs such as the Yearbook Committee and Science Club and Internships at campaign offices, Armenia Fund, the school and church. The students find these activities very helpful and enjoyable. The purpose of these activities is to help students serve the community and build their team playing skills. More clubs and internships will be added in the next academic year.
ADS eighth and ninth grade students also pay educational trips to Washington D.C., Philadelphia and New York each year, to see and learn about important and famous sites such as Capitol Hill, the White House, the Washington Monument, the Lincoln Memorial, the Korean War Memorial, the WWII Memorial, the Air & Space Museum, the Natural History Museum, the Liberty Bell, Independence Hall, Benjamin Franklin's burial site, Time Square, Empire State Building, the Statue of Liberty and the Financial District.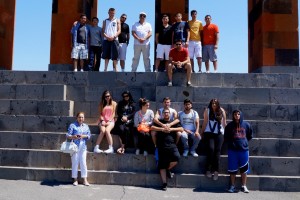 The senior students make a two week long trip to Armenia after graduating, along with teachers and any volunteering parents. The purpose of the trip is to give the students the opportunity to acquaint themselves with their homeland and strengthen their bond to their Armenian identity. Last year, the ADS students stayed at Ani Plaza Hotel in Yerevan and visited Garni, the incredible Christian Monastery of Geghard, Ashtarak, Saghmosavank, the burial site of Mesrop Mashots, Amberd on the slopes of Mt. Aragats, Etchmiadzin Cathedral, Sardarapat and Khor Virap Monastery and Artsakh.